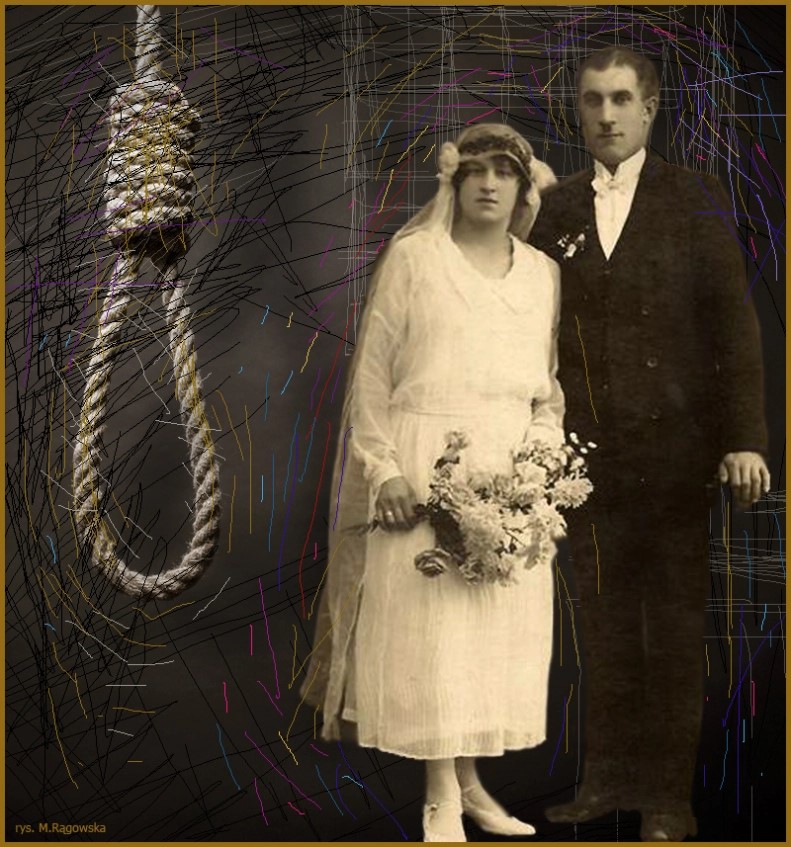 W przedwojennym szlagierze Tola Mankiewiczówna opowiada "o czym marzy dziewczyna". Otóż chciałaby "stanąć z nim na ślubnym kobiercu, nawet łzami zalać się"…
Marzenia takie miała pewnie Helena Łuniewska, życiowa partnerka (jak się wtedy mówiło: konkubina) Konstantego Szczudło. Jednak chwilowo na to się nie zanosiło, gdyż oblubieniec prowadził niebezpieczny tryb życia, a to – jak wiadomo – nie sprzyja stabilizacji. Nawet przyjście na świat wspólnego dziecka nie skłoniło pary do zalegalizowania związku. Jakie były tego powody? Dziś możemy tylko spekulować- może to Konstanty, zajęty swoimi kryminalnymi sprawami, nie chciał brać na swoje barki dodatkowego obciążenia w postaci prawowitej małżonki? Może, właśnie że względu na profesję, chciał chronić ukochaną kobietę przed ewentualnymi konsekwencjami swoich działań? Może było odwrotnie: Helena czekała, aż luby się wyszumi i będzie mogła na niego liczyć w stu procentach? Albo w końcu poświęci się czemuś, co zagwarantuje stabilizację i perspektywy? Interpretacji tej historii mogą być setki, ale jedno jest pewne – zakończenie.
Carski agent
Początek XX wieku to niespokojny czas. Pogarszające się warunki pracy skutkowały napiętą sytuacją w ośrodkach przemysłowych. Pokłosie rewolucji rosyjskiej 1905 r. odbiło się szerokim echem na ziemiach polskich. Ruchy robotnicze rosły w siłę, wybuchały strajki i zamieszki. Polska Partia Socjalistyczna powołała swą Organizację Bojową już w maju 1904 r. W kolejnych latach przeprowadziła setki akcji zbrojnych i terrorystycznych (zamachy, odbijanie więźniów, ekspropriacje). W aktywną działalność zaangażowani byli późniejsi politycy z najwyższych szczebli władzy, m.in.: Józef Piłsudski, Ignacy Mościcki, Kazimierz Sosnkowski, Aleksander Prystor, Walery Sławek, Tomasz Arciszewski. Ten ostatni – premier RP na uchodźstwie w latach 1944- 47- był m.in. organizatorem zamachu na rosyjskiego generała Andrieja Margrafskiego. Ten carski urzędnik " (…) znał doskonale społeczeństwo polskie i mówił językiem polskim jak własnym. Tę właściwość przypisywano […] między innymi bliskiej znajomości ze znaną powieściopisarką Gabrielą Zapolską. Tej znajomości Margrafski zawdzięczał możliwość zapoznania się z duszą polską, co dla niego, jako dla żandarma, miało znaczenie pierwszorzędne. […].
Zapolska znów zawdzięczała znajomości z generałem temat do znanej sensacyjnej sztuki […]. Z rozmów z Margrafskim dowiedziała się Zapolska o wielu ciekawych sprawach, o zawikłanych śledztwach, o denuncjacjach […]. Słyszałem o czasach, gdy Margrafski był jeszcze rotmistrzem żandarmskim, a ona osobą młodą, udawało jej się nieraz ratować młodych studentów, prowadzących pracę nielegalną" .
Carski siepacz w Warszawie rezydował od 1883 roku, najpierw jako lejbgwardzista, potem starszy adiutant Zarządu Warszawskiego Okręgu Żandarmerii, a od 1905 r. – szef tajnej policji i zastępca warszawskiego generała- gubernatora Gieorgija Skałona. "Nie był ani okrutnikiem, ani bezdusznym prześladowcą. Może nawet nie był złym człowiekiem. Był jednak człowiekiem żelaznego systemu".
Strzały na zakręcie
Margrafski wraz z rodziną mieszkał w podwarszawskim Otwocku, do którego codziennie dojeżdżał z Warszawy pociągiem, podróżując w oddzielnym, doczepianym wagonie. Na stacji czekał na niego powóz zaprzężony w białe konie, którym wracał do domu. Zwyczaje carskiego urzędnika rozpracowali bojowcy z PPS, którzy od kilku tygodni obserwowali teren. Zasadzka została przygotowana na trasie przejazdu generała w lesie, pomiędzy stacją kolejową a domem. Jednak kilka tygodni przed planowanym zamachem pojawiły się komplikacje: w związku z napadem na pociąg w pobliskim Celestynowie, generałowi podczas przejazdów zaczęła towarzyszyć wzmocniona eskorta. Akcję wyznaczono na 2 sierpnia, a ponieważ popołudnie było wyjątkowo upalne, ochrona powozu pozostawała w pewnej odległości za głównym pojazdem, w którym siedział Margrafski z żoną, 6- letnim synkiem i 3- letnią córeczką. Najbliżsi często wyjeżdżali po "papę" na stację. Tak było niestety i tym razem.
"Było dla bojowców polskich świętą zasadą, by według możności ograniczać liczbę ofiar do niezbędnego minimum i za wszelką cenę oszczędzać niewinne osoby. Zasadę tę przestrzegano nieraz z narażeniem własnego życia."
Gdy powóz mijał gospodę Buczyka i szykował się do skrętu w ulicę Reymonta, do kolasy doskoczyli bojowcy i – z bardzo bliskiej odległości – otworzyli ogień. Gwardziści chroniący powóz uciekli na pierwszy odgłos strzałów. Margrafski zginął na miejscu, kilkukrotnie trafiony w pierś wypadł z powozu, a jego 6-letni syn Koka został ciężko ranny i zmarł tej samej nocy. Zamachowcy zdołali uciec. Jak to wszystko odnosiło się do szlachetnych idei oszczędzania niewinnych? Wersja socjalistów brzmiała nieco inaczej: Arciszewski strzelał z bliska, aby zabić generała, a chłopca trafiła zbłąkana kula, w czasie strzelaniny, jaka wywiązała się pomiędzy zamachowcami a lejbgwardią.
Obiecanki
W Otwocku wybuchła panika- letnicy i część mieszkańców w pośpiechu opuścili miasteczko w obawie przed represjami, a każdy wyjeżdżający poddawany był wnikliwej rewizji.
Śledztwo w sprawie zabójstwa prowadził płk Sobakiński, naczelnik kancelarii Margrafskiego. W letnisku zaroiło się od sołdatów i agentów ochrony. Opierając się na informacjach z przesłuchań i pogłoskach, aresztowano kilkunastu mężczyzn, których przewieziono do Cytadeli. Jednak po kilku tygodniach wszyscy odzyskali wolność- nie znaleziono dowodów jakiejkolwiek winy. Ponieważ latem 1906 r. odbyły się kolejne akcje terrorystyczne (zamach na Skałona, "krwawa środa"), władze carskie miały pełne ręce roboty i śledztwa w sprawie zabójstwa Margrafskiego nie traktowano priorytetowo. Zresztą prasa w Kongresówce niezbyt chętnie informowała o akcjach wymierzonych w działania aparatu carskiej represji.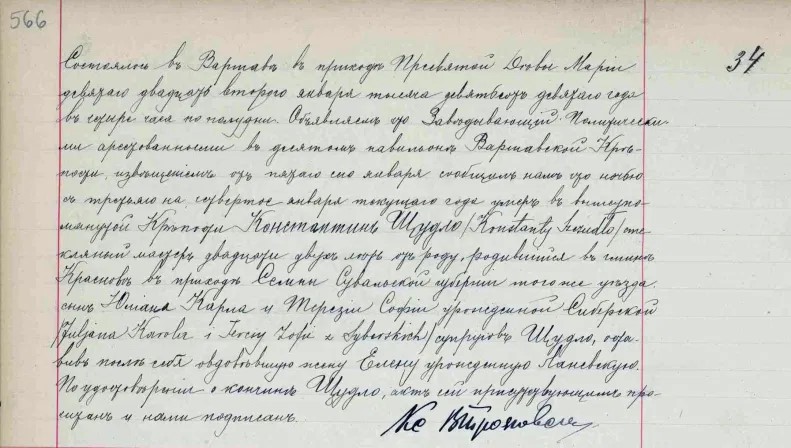 Jednak sprawa ta doczekała się swojego- trochę absurdalnego, ale przede wszystkim tragicznego- finału. W 1908 r. o zamach w Otwocku oskarżono dwóch mężczyzn: Antoniego Lipskiego i Konstantego Szczudło. Aresztowani zostali przy okazji jakiegoś błahego- w porównaniu z zabójstwem- przestępstwa, a do zabicia generała przyznali się w trakcie przesłuchań, skuszeni łagodnym wymiarem kary. W procesie, obrońcą skazanych był Bronisław Grosser, słynny działacz niepodległościowy i przywódca żydowskiego Bundu. Niestety, system musiał ukarać winnych, choćby przypadkowych – dla obydwu orzeczono karę śmierci przez powieszenie. Datę kaźni wyznaczono na 18 stycznia 1909 r.
Wesela nie było
Dzień wcześniej Helena Łuniewska dostała depeszę. "Przyjeżdżaj zaraz w tej chwili dzisiaj i przyjdź z dzieckiem, bo jest pozwolenie ślub wziąć przed śmiercią, tylko proszę cię zaraz siadaj w dorożkę i przyjeżdżąj bo jutro to już będzie zapóźno. Konstanty Szczudło"
Po przeczytaniu, bez zastanowienia Helena ubrała się, opatuliła dziecko i razem z półtorarocznym maleństwem wybiegła z domu. Ślubu, w kancelarii X pawilonu Cytadeli, udzielił ks. Henryk Staniszewski, wikariusz kościoła pw. Najświętszej Marii Panny. Nie było kobierca, ale były łzy. Godzinę po ceremonii, tuż po północy, pan młody zawisł na szubienicy…
---
Autor: Opracowała Agnieszka Bogucka, wprowadzenie: Iwona Dybowska
Tekst publikowany 26. stycznia 2017 r. w piśmie Samorządu Województwa Mazowieckiego "Z serca Polski nr 1/17"
Apendix
Powyższy artykuł przypadkowo odszukany przeze mnie w Internecie, opisuje okoliczności, w jakich odszedł z tego świata bratanek mojego pradziadka Adama Szczudło (1847- 1911), Konstanty (1886- 1909), syn Juliana Karola (1844- 1916) i Teresy Szyborskiej (1850- 1903). Zostawił po sobie syna Bolesława Konstantego ur 26.08.1908 r. oraz wdowę Helenę z Łoniewskich (wersja nazwiska z metryki ślubu), córkę Józefa i Franciszki Muchowicz. Poznanie historii tych osób będzie celem dalszych poszukiwań.