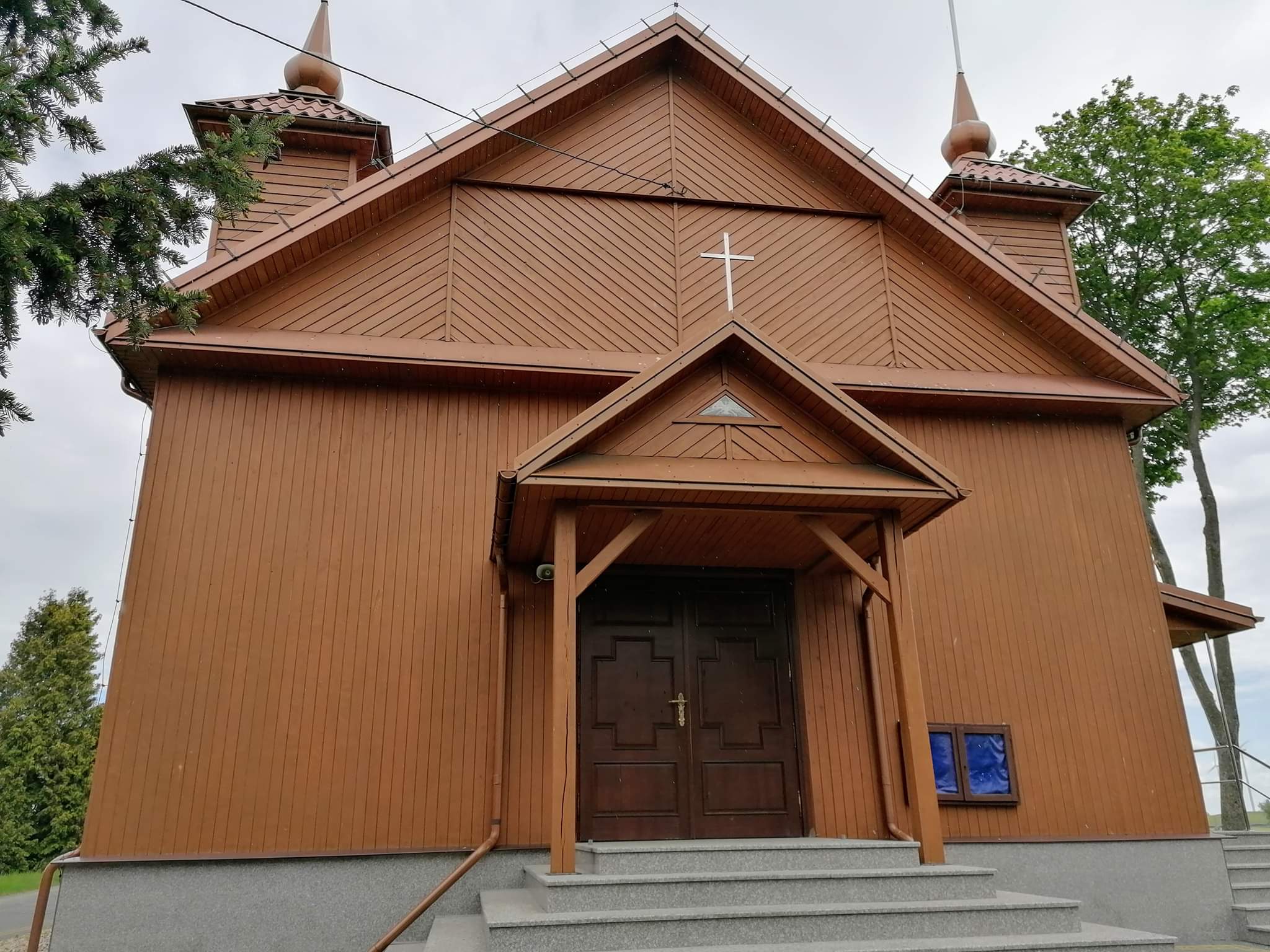 Artykuł ks. Andrzeja Pieńkowskiego ukazał się w periodyku Studia Ełckie nr 13, w 2001 roku
Wprowadzenie
Początek archiwów parafialnych Kościoła katolickiego sięga średniowiecza. Obowiązek ksiąg metrykalnych został wprowadzony w dru-giej połowie XVI w. po Soborze Trydenckim (1545-1563). Zalecono prowadzenie rejestru chrztów, który był wymagany przy udzielaniu sakramentu małżeństwa. Od XVII wieku zaprowadzono rejestrację wszystkich chrztów i ślubów. Z czasem dodatkowo spisywano bierzmo-wanych, przyjmujących komunię wielkanocną i zmarłych. Do XVIII wieku każda księga metrykalna podzielona była na trzy części: chrztów, ślubów i zgonów. Nie posiadały one rubryk lecz miały formę opisową. Do początków XIX wieku pisane były po łacinie. Powodowało to, że były mało czytelne. Wszedł więc obowiązek (XVIII wiek) prowadzenia oddzielnych ksiąg chrztów, ślubów i pogrzebów [1]. Przy rejestracji aktów metrykalnych pozostała nadal forma opisowa. Rubryki w księgach na terenie Polski wprowadzono w wieku XX. Obok dokumentów metrykalnych archiwa parafialne posiadały akta urzędowe, akta rachunkowe, księgi korespondencji i inne. Wszystkie one tworzyły bogatą spuściznę historyczną danej epoki.
W obrębie szeroko rozumianego archiwum na przestrzeni lat rozszerzał się i kształtował zakres ksiąg obowiązkowych prowadzonych w parafii. Obecnie do najważniejszych należą księgi metrykalne, czyli ochrzczonych, małżeństw i zmarłych. Dodatkowo muszą być przechowywane księgi bierzmowanych, pierwszej Komunii świętej, chorych, protokołów przedmałżeńskich, rachunkowa, kartoteki parafialne, intencji mszalnych, kapłanów celebrujących, ogłoszeń parafialnych, kronika, inwentarzowe, protokołów wizytacji biskupiej i dziekańskiej, posiedzeń rady parafialnej i ekonomicznej oraz korespondencji [2].
Celem opracowania jest przedstawienie zasobów Archiwum Parafii pw. św. Wojciecha w Rydzewie k. Rajgrodu z lat 1810-2000. Nie wszystkie księgi i akta obecnie uważane za obowiązkowe, takimi były na przestrzeni lat objętych artykułem. Dlatego schemat artykułu nie będzie pokrywał się z obecnie przyjętym zakresem ksiąg obowiązkowych w archiwum parafialnym. Ważnym również jest fakt, że akta parafii w Rydzewie w dużej mierze opierają się na dziewiętnastowiecznych poszytach. Zawierają one jednocześnie akta urzędowe, rachunkowe i korespondencyjne, dlatego jednoznaczny podział dokumentów jest często niemożliwy. W archiwum z różnych przyczyn nie zachowało się w całości, zaginęło bądź zostało przejęte przez archiwa państwowe wiele ksiąg i poszytów.
Opierając się na analizie źródeł, które są głównym przedmiotem pracy, artykuł ma przedstawić archiwum rydzewskie w sposób możliwie uporządkowany, jako cenne źródło do przyszłych badań historycznych. Dotychczas posiłkując się informacjami z wyższej wymienionych dokumentów, napisana została praca magisterska. Jednak nikt dotąd nie pod-jął się przedstawienia archiwum w sposób kompleksowy.
Historical view
Historia parafii w Rydzewie rozpoczęła się od starań Ksawerego Rydzewskiego (zm. 1843 r.), rotmistrza Powiatu Biebrzańskiego, dziedzica majątku w Rydzewie. Podpisał on akt lokacyjny 6 października 1809 r. po uprzedniej umowie z komisarzami duchownymi. W konsekwencji, 5 marca 1810 roku [3] biskup wigierski Jan Klemens Gołaszewski [4] wydał akt erekcyjny kościoła filialnego w Rydzewie pw. św. Wojciecha Biskupa. Ksiądz pracujący w Rydzewie otoczył opieką duszpasterską następujące miejscowości wyłączone z parafii Rajgród: Rydzewo, Szymany, Toczyłowo, Sikora, Miecze, Kosówka, Wólka Piotrowska, Wólka Danowska, Danowo, Bukowo, Kołaki i Karwowo. Kościołem filialnym pozostał aż do końca 1818 roku [5]. Po powstaniu diecezji sejneńskiej czyli augustowskiej, filia w Rydzewie weszła w skład dekanatu wąsowskiego. Po powstaniu styczniowym w 1867 roku zwiększono liczbę guberni, do których władze carskie nakazały przystosować granice dekanatów. W skład dekanatu szczuczyńskiego z siedzibą w Grajewie weszła filia kościoła w Rydzewie. Był to okres wprowadzania obowiązkowego języka rosyjskiego w zapisach ksiąg parafialnych. Stan ten przetrwał aż do pierwszej wojny światowej. Po odzyskaniu niepodległości przez Polskę w 1918 roku nastąpiła reorganizacja struktur kościelnych. Parafia w Rydzewie weszła w skład diecezji łomżyńskiej od 1925 roku [6]. Dekanatem pozostał nadal Szczuczyn. Od roku 1937 parafia Rydzewo włączona została do nowopowstałego dekanatu Grajewskiego [7]. Obszar parafii podczas drugiej wojny światowej przechodził kolejno pod okupację radziecką (1939-1941) i niemiecką (1941-1945). Po kolejnej zmianie granic diecezji w Polsce, parafia w Rydzewie weszła w skład nowopowstałej diecezji ełckiej w 1992 roku [8]. Nowym dekanatem został Rajgród.
Register books
Część z tych dokumentów nie zachowała się. Jednak na podstawie akt parafialnych można stwierdzić, że księgi metrykalne prowadzone były od początku istnienia filii rydzewskiej, czyli od 1810 roku [9]. Do ksiąg zaginionych należą: księgi ochrzczonych z lat 1810-1811, 1812-1825, 1826-1831, 1832-1835, 1836-1842, 1843-1855, 1856-1865; księgi zaślubionych z lat 1810-1825, 1826-1830, 1832-1835, 1836-1842, 1836-1850, 1851-1859; księgi zmarłych z lat 1809-1825, 1826-1832, 1832-1835, 1836-1850, 1851-1853 [10]. Pewną liczbę ksiąg przejęły archi-wa państwowe. Zapoczątkowały to władze radzieckie okupujące tereny parafii rydzewskiej po 1939 roku. Akta metrykalne miały pomóc przy przeprowadzaniu poboru wojskowego wśród "nowych obywateli" ZSRR. Podobnie postępowała władza ludowa przejmując księgi metrykalne od 1945 roku włącznie [11]. Obecnie część z nich jest przechowywana w archiwum gminy Rajgród, natomiast najstarsze (powyżej stu lat) przesłane zostały do Archiwum Państwowego w Łomży [12].
W archiwum parafialnym w Rydzewie z tego okresu zachował się manuał (brudnopis z poprzekreślanymi wpisami) zaślubionych z lat 1908-1914. Są również dwie teczki zawierające: raptularz (brudnopis) zaślubionych i zmarłych ochrzczonych z lat 1938-1925. Jest to skrótowy spis zaślubionych i zmarłych, najprawdopodobniej z ksiąg metrykalnych, pisanych latami wstecz. Notatka o zaślubionych podaje datę ślubu, ich wiek oraz imiona rodziców i nazwisko rodowe matki. Przy zmarłych podawany jest wiek, data śmierci oraz imiona rodziców z nazwiskiem rodowym matki. Dane dotyczące ochrzczonych oprócz imienia, daty chrztu i urodzenia, zawierają imiona i nazwiska rodziców. Na marginesach znajdują się adnotacje dotyczące ślubów.
Z lat 1939-1948 zachowały się duplikaty ksiąg metrykalnych podzielonych na trzy części, gdzie wpisywano zarówno ochrzczonych, zaślubionych i zmarłych.
Continue reading Zasoby archiwum parafialnego w Rydzewie k. Rajgrodu (XIX-XX w.)
---