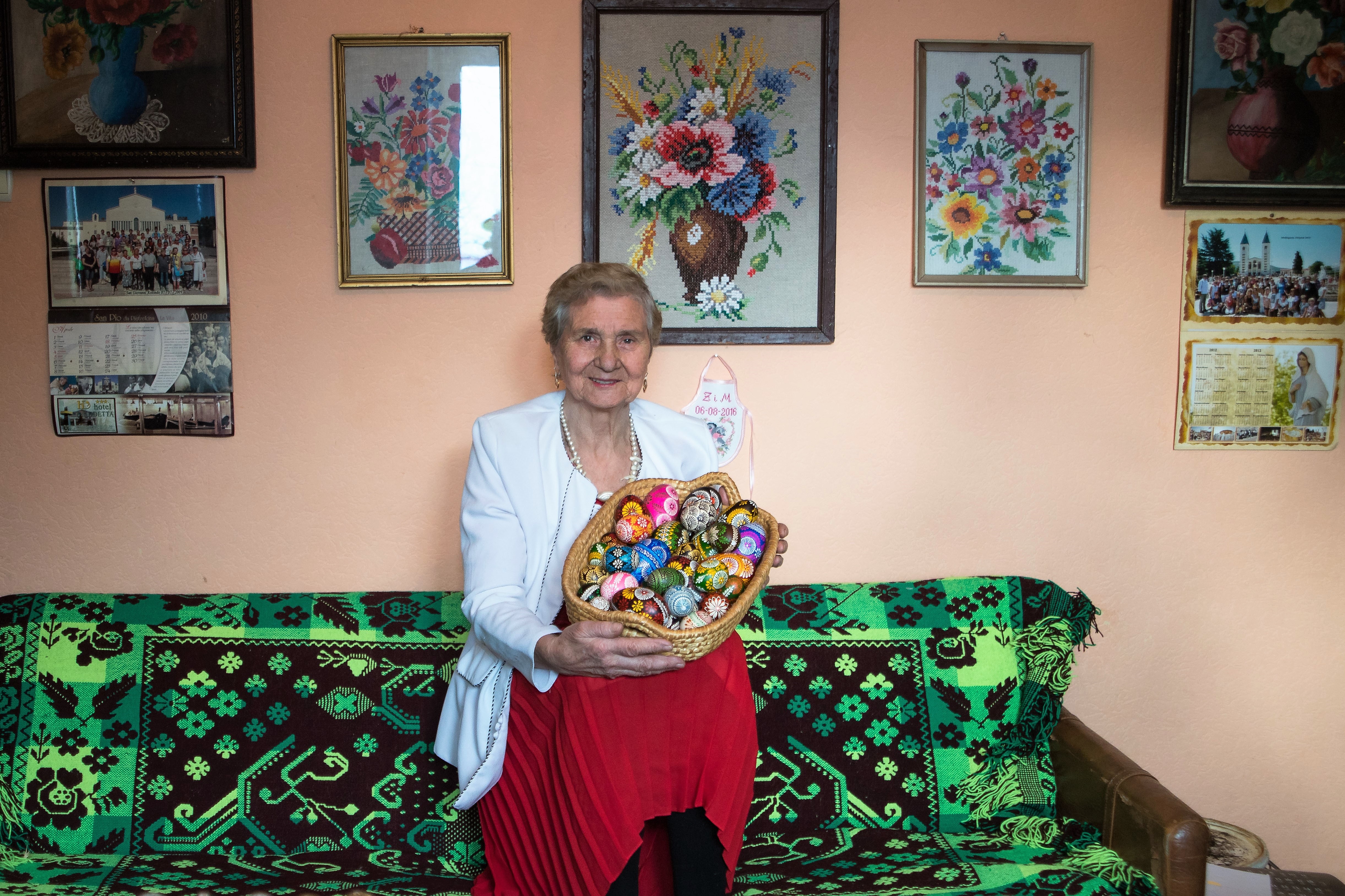 North-Eastern Poland is one of the few regions where there are lively, ancient crafts such as pottery, weaving, lace making, distilling and basketry. Traditional folk art has not been pushed into the open-air museums, but is still cultivated in Podlasie villages and towns.
Being on hospitable land and traveling along the folk handicraft trail, it is worth finding workshops in which, according to the rules handed down for generations: weaving products, rugs, bedspreads, rugs, clay pots and vases, products of wood and straw. In the forge, horseshoes and metal fittings are forged with powerful hammers...
In many cities there are folk groups cultivating old customs, rituals and dances that accompanied the village life.
Traditional regional cuisine is still alive. Potato cake, sausage, kartacze and sękacze. Dumplings with cabbage never taste as good as in Podlasie.
Traveling along the trail of folk handicrafts, it is impossible not to stay in my hometown - Lipsk. There lives Krystyna Cieśluk, a well-known folk artist, a person close to my heart - my mother.
I come from this small town, I grew up in it and spent my childhood. There was always an atmosphere of magic and wonders in the family home.
Mum's dolls were made of rags for playing, colorful tissue paper flowers, paint-colored laurels, occasionally made for the inhabitants of Lipsk. Spiders of straw and peas hung in the room, knitted doilies or crochet doilies on the table, curtains made on the window frame or cutouts from cut-outs. Most, however, I remember (as she called it herself) "wonder" from eggs.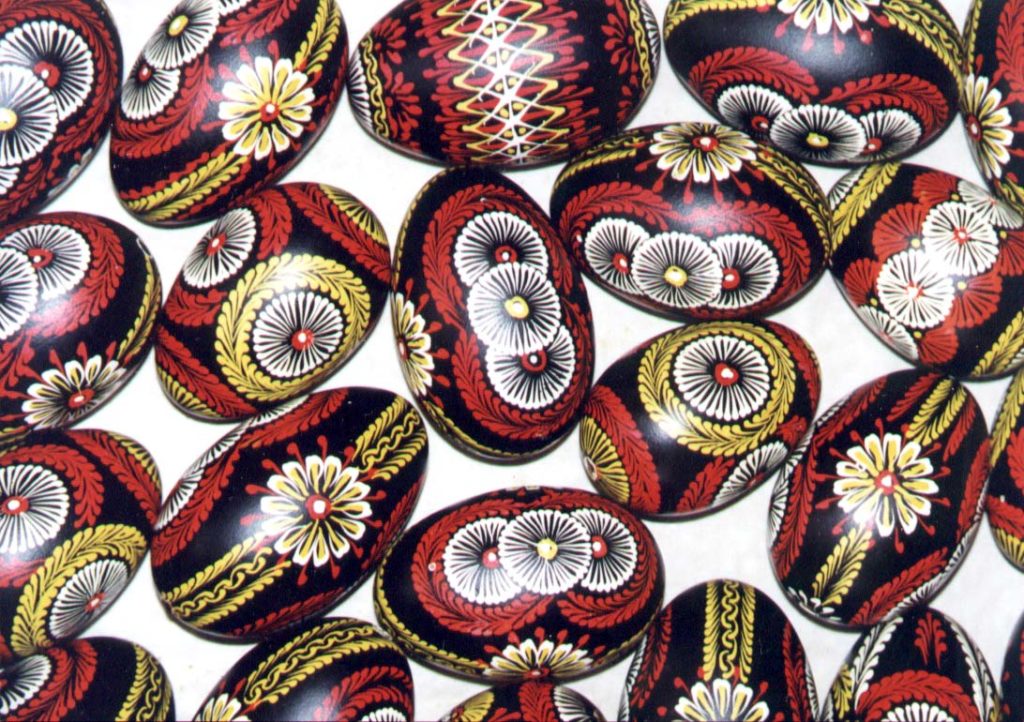 "... Easter eggs, painted eggs, colored eggs" could be said were the decoration of the house and showcase of my mother. She taught me, siblings and many generations of young people how to put the first lines on an egg, and then dye and wipe them over the heat so as not to burn yourself and destroy the work. We spent many days and nights with my mother making Easter eggs for "Cepelia". There were thousands of them. I remember my mother bending over an old metal soap dish with hot wax. There was a specific smell throughout the house. At such "evenings" mummy told us many legends, memories and stories from the old days. We also sang old songs many times. Older ladies also came to our household to embroider and sew tapestries together. Our house was full of people and it has remained so until today.
Easter egg painting has been known in our family for generations. Lipsk's Easter eggs are made in a "batik" manner. This style is based on the fact that hot wax is applied to a chicken egg, with a metal pin attached to a stick. My great-grandmother Ewa Pietrewicz née Sztuk, taught my grandmother Maria Pietrewicz née Korniłowicz how to paint the eggs. The progenitor soon became a well-known manufacturer of multi-colored Easter eggs. She in turn passed eggs painting skills with this technique to my mother - Krystyna Cieśluk.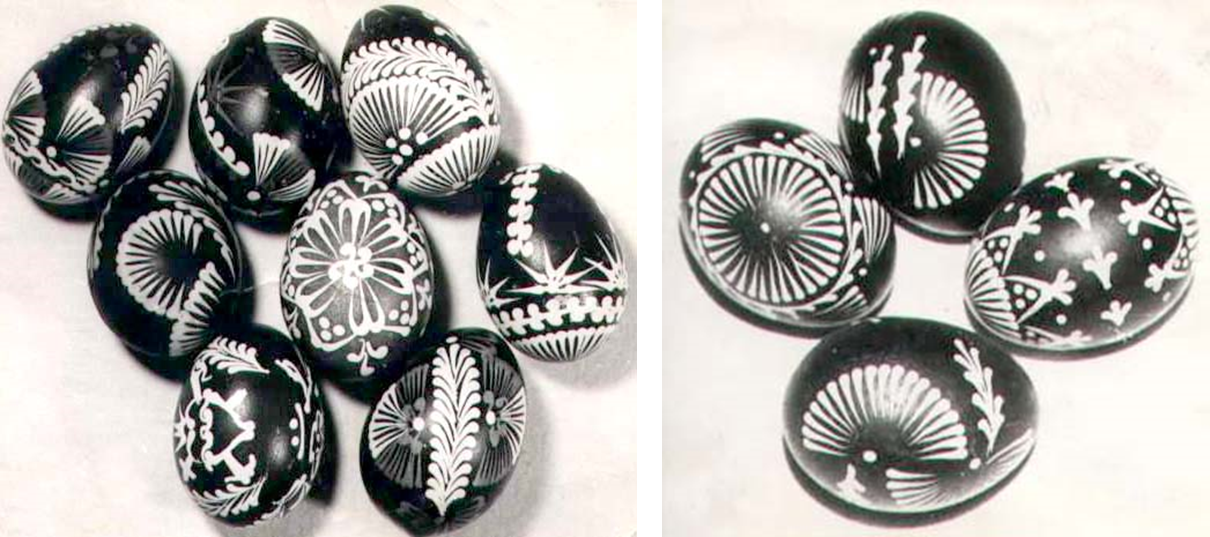 At the turn of the 1950s and 1960s, together with her mother, they made Easter eggs for the needs of friends and cousins. Their products also went abroad to the USA, Canada, Germany, France and the USSR. Initially, they were painted in natural paints, which they prepared themselves from various plants and according to traditional recipes.
Krystyna Cieśluk, all her life, since she remembers herself, has been and is still associated with the creation and promotion of the folk culture of her region. It consists of egg-making, lace-up, embroidery, cut-outs and rich cultural activity. Together with people of good will, she created a regional museum with gifts from residents and supporters of Lipsk. She founded the "Lipsk" regional group. Driving around surrounding villages and towns, she recorded hundreds of cassette tapes with songs and folk melodies. She wrote many rituals and names of her everyday objects in order to convey to the young generation what is forgotten. She collects old photographs, organizes occasional exhibitions together with the GOK employees. She represented her hometown at trade fairs in Poland and abroad. She actively participates in shows, trainings, lectures, competitions and fairs.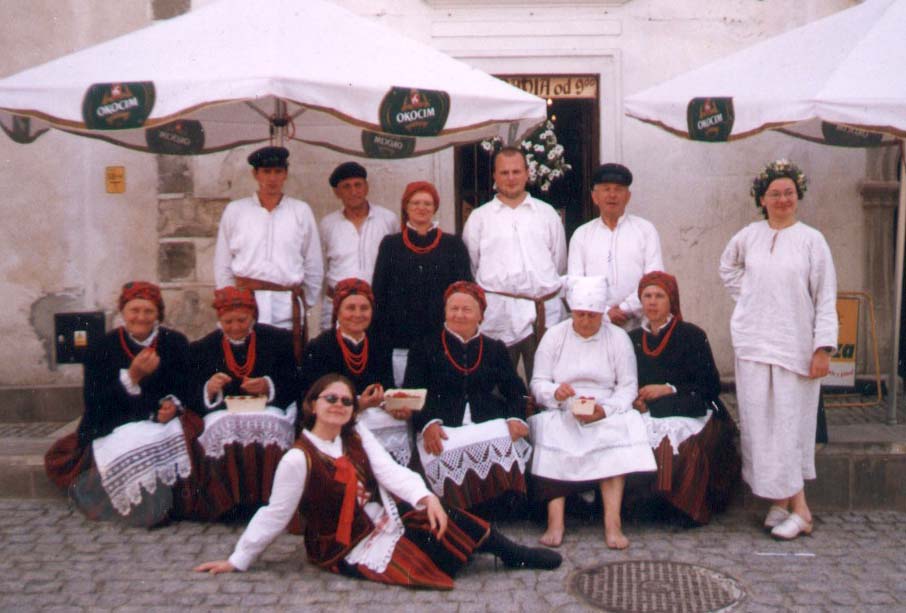 Krystyna Cieśluk tries, at all costs, to save what is native, traditional and beautiful from being forgotten.
From 1999 to the present day, she cooperates with the Biebrza National Park based in Osowiec. She is "inscribed" in the tourist trail leading through the Suwałki Region - "Handicrafts and Traditions of the Suwałki and Masurian Village" and in the tourist offer of the Lipsk commune. She is still an open person to the world and leaves the gates open, inviting travelers on the trail to a hospitable corner of Podlasie land.
Ethnographers, reporters and photographers are interested in the works of Krystyna Cieśluk. During the interviews, she always tries to draw attention to the traditions of the Lipsk region and the town itself, she is strongly associated with it and could be called - in love. In 1999, she received a scholarship from the Ministry of Culture and Arts/Department of Creative Promotion for her work in the field of culture and folk creativity. In 2007, she won the prestigious Award of Oskar Kolberg "For services to folk culture".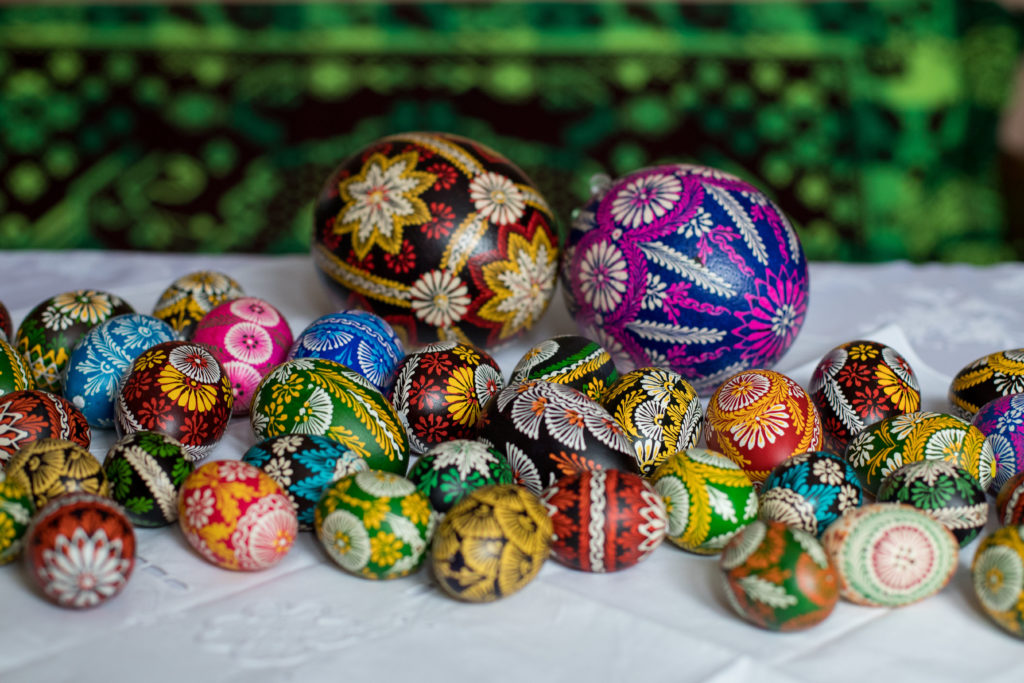 In her commemorative books of considerable size, she stores, among others dozens of diplomas, awards, photographs, honorary invitations and press clippings about her creative work and about Lipsk - this is her own chronicle since 1963. She has diaries and competition works. Her articles can be read in the Conservation Bulletin of the Podlasie Voivodship. Her collections are readily used by future doctoral students, masters or bachelor students. In 2005, finishing my sociological studies, I wrote a paper about culture animator Krystyna Cieśluk. The information collected will allow me to write a biography about her.
Today, my mother certainly feels a fulfilled person, satisfied with her job - a job that she has transformed into a passion. It gives her a lot of joy. It is a way to be active even in retirement. It's her way of life - resilient, full of contacts with people.
To the question - why do we like to have eggs in painted shells on the holiday table, my mother would answer: one of the most important reasons is affection to tradition.
In one of the interviews, it was jokingly stated that if Krystyna Cieśluk from Lipsk would be asked what was first: an egg or a chicken? - she would answer with certainty - Easter egg.
---
---
Latest posts by Małgorzata Laskowska
(see all)